Update: 8-06-2010, 4:39pm | New to the site? Read the FAQ
.: Resources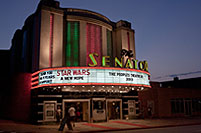 Technicolor I.B. Screening
In July of 2010, the historic Senator Theatre in Baltimore closed down. As a final farewell, they held a free screening of a super-rare Technicolor print from 1977 that was privately owned. Here are video, screen stills and other information from this rare and unlikely event.
1977 Screen Photographs and Film Material (coming soon)
A collection of personal photographs taken from a movie theatre in 1977. Useful for some detail and rough color references. There are also scans of some private prints and examples from the 70mm cell collections.
Media Contact Information and LFL Reps (coming soon)
A list of contact information for media that is supporting our cause or could be, as well as information on Lucasfilm contacts to direct your inquiries and protests.